Joint Operating Agreement (JOA) consultation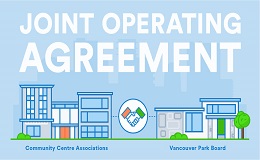 Learn more about JOA
The Park Board is writing a new chapter in its relationship with Community Centre Associations.
A new way forward for the Vancouver Park Board and Community Centre Associations
In April 2016, the Vancouver Park Board began a fresh consultation process to consult with Community Centre Associations (CCAs) on a new JOA by the end of the year.
The process was designed to include all CCAs and to be collaborative, fair, reasonable, and fully transparent. This page includes all of the materials related to the JOA consultation process.
Joint Operating Agreement
April 10, 2017 – The Vancouver Park Board approved a new Joint Operating Agreement to offer the Community Centre Associations.
Read the motion to approve the new JOA PDF file (120 KB)
April 28, 2017 – Final copies of the Amended Final Draft JOA were offered to CCAs for signature.
Read the amended final draft JOA PDF file
Key communications
In early 2016, the Vancouver Park Board committed to a three-phase process to modernize a new JOA called "A new way forward".
Read the April 5, 2016 letter from Park Board chair on "A new way forward." PDF file (140 KB)
We are approaching a critical moment in the relationship between the Vancouver Park Board and CCA partners. The deadline for the CCAs to sign the JOA is September 30, 2017.
Read letters from the Director of Recreation:
Summary of consultation process
Phase 1: Dialogue session (April 30, 2016)
In April, 2016, an overview of the JOA consultation process and schedule were developed by the JOA Facilitator, Raymond Penner.
Phase 1 of the consultation process began with kick-off meetings and a dialogue session between the facilitator and the CCAs to discuss shared principles and essential components of a new JOA.
Read the related documents:
Following the dialogue session, the Park Board planned six consultation sessions.
Read the letters:
In response to feedback from a group of CCAs presidents, the Park Board committed to circulating revised content after each consultation session.